Why Buy Used At Rosen Hyundai?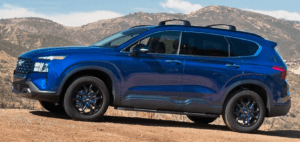 If you are looking for durable, top of line used cars at competitive prices, please look no further than the used car inventory at Rosen Hyundai in Greenfield. Our selection of used models, for sale, present an array of diverse features to ensure your driving experience will be enjoyable.
Which Used Vehicle Is The One For Me?
With over 90 used cars, trucks, and SUVs to choose from, our used vehicle inventory may seem daunting to auto shoppers, but use the extensive list of prime feature filters to narrow down your search. If you want a vehicle with Apple CarPlay, you can set that search to models with that exact addition. This goes for a number of other key elements such as adaptive cruise control, AWD, blind spot monitor, heated seats, lane keep assist, sunroof and rear a/c.
There are at least a dozen makes to choose from while making your decision. Each one of these top tier brands are reliable in their own right. You can look at the mileage coupled with all the available trims.
Each used car has something for every driver. If you take a used model with Apple CarPlay it will completely change your smartphone experience. You can use voice activation to construct text messages and que up phone calls to family and friends. You can also set up your navigation system with this same method.
Fight the elements with AWD and automatic climate control. AWD will provide the necessary power and force to allow the vehicle to stay on track and ward off dicey roads including ones filled with water or slick ice. Automatic climate control changes the game with sensors in the interior which adapt to a variety of temperatures to make your whole group comfortable.
Every used car for sale can be purchased proudly through the Rosen Express Checkout which eases some stress and sorts out some potential questions when obtaining a vehicle. You can implement a deposit at a speed that accommodates your current needs.
Schedule A Test Drive At Rosen Hyundai Greenfield
Our used car inventory is full of models for diverse drivers. If you are interested in one of these used cars, trucks, or SUVs and want to schedule a test drive, please contact us at Rosen Hyundai Greenfield.