Tire Rotation Service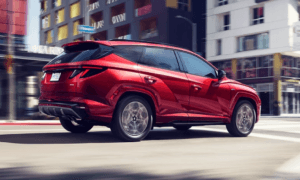 Are you in need of reliable tire performance before an extensive road trip or to keep your daily commute in check? If so, please consider the Rosen Hyundai Greenfield service center for a tire rotation service. Our skilled team of technicians will ensure not only your overall satisfaction but also a peak performance from your vehicle.
The Importance Of A Tire Rotation
We all know in this community the weather can be unpredictable, especially in the winter. This season brings forth icy and slick conditions on the road which could spell out trouble and be problematic.
Your tires are paramount to the functioning of your vehicle as a whole. Your wheels should be rotated every now and then to prevent any stalling or breakdowns on the road. Imagine facing the frigid, Wisconsin climate head on while your tires are in disarray. Not keeping up with this in particular can lead to your car swaying in different directions on the road.
We are here to combat any problems before they get out of hand. Owning a vehicle can be stressful enough so why not keep track of the status of your tires so you can ride confidently. Our team will pride themselves on making sure your vehicle is in and out of the tire rotation service efficiently. They don't focus on quantity yet the emphasis is quality.
Our auto repair center can put you in the desirable position of being on the open road while exuding the utmost confidence going forward.
Schedule A Tire Rotation In Greenfield
A tire rotation service may be the antidote and solution to your on the road troubles and propel you to efficient commutes. If you are interested in a tire rotation, please contact us and schedule an appointment at Rosen Hyundai Greenfield.