Best Certified Hyundai SUVs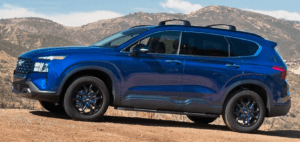 Have you been searching for the ideal SUV which displays efficiency on the road coupled with innovative technology and safety features? If so, please take a moment to consider and look at our certified used Hyundai inventory. Our wide selection of SUVs is full of potential, future vehicles which will be certain to improve your overall driving experience.
Future car buyers should gravitate towards certified used vehicles as they have been through a detailed process in order to be listed on the inventory list. The amount of features which are looked at sometimes surpasses 100 and ranges from major ones to the minor ones you may have completely forgotten about.
Hyundai Kona SE
The Hyundai Kona SE has a fantastic spectrum of features including Apple CarPlay integration, a backup camera, bluetooth connectivity and all wheel drive.
Apple CarPlay integration completely changes the game for entertainment and convenience while driving. This system gives you the ability to queue up phone calls and construct text messages with the simple sound of your own voice. The Siri voice activation system also give you the freedom to play your favorite music via multiple popular music streaming applications and also to set up your next destination on apple maps.
Hyundai Tucson SEL
The Hyundai Tucson SEL has a variety of features including Apple CarPlay and Android Auto, all wheel drive, bluetooth connectivity, heated seating, keyless entry and power seats.
Imagine coming back to your vehicle in the cold, Wisconsin winter and being able to flip on heated seats so that you can stay optimally warm.
All wheel drive gives you some added stability on the road as well in regards to irregular terrain and also if snow starts to roll in.
Purchase A Certified Hyundai SUV In Greenfield
Our extensive certified used Hyundai SUV inventory gives you a decent amount to consider while making your decision for your next ride. If you are interested in a used SUV, please contact us at Rosen Hyundai Greenfield.